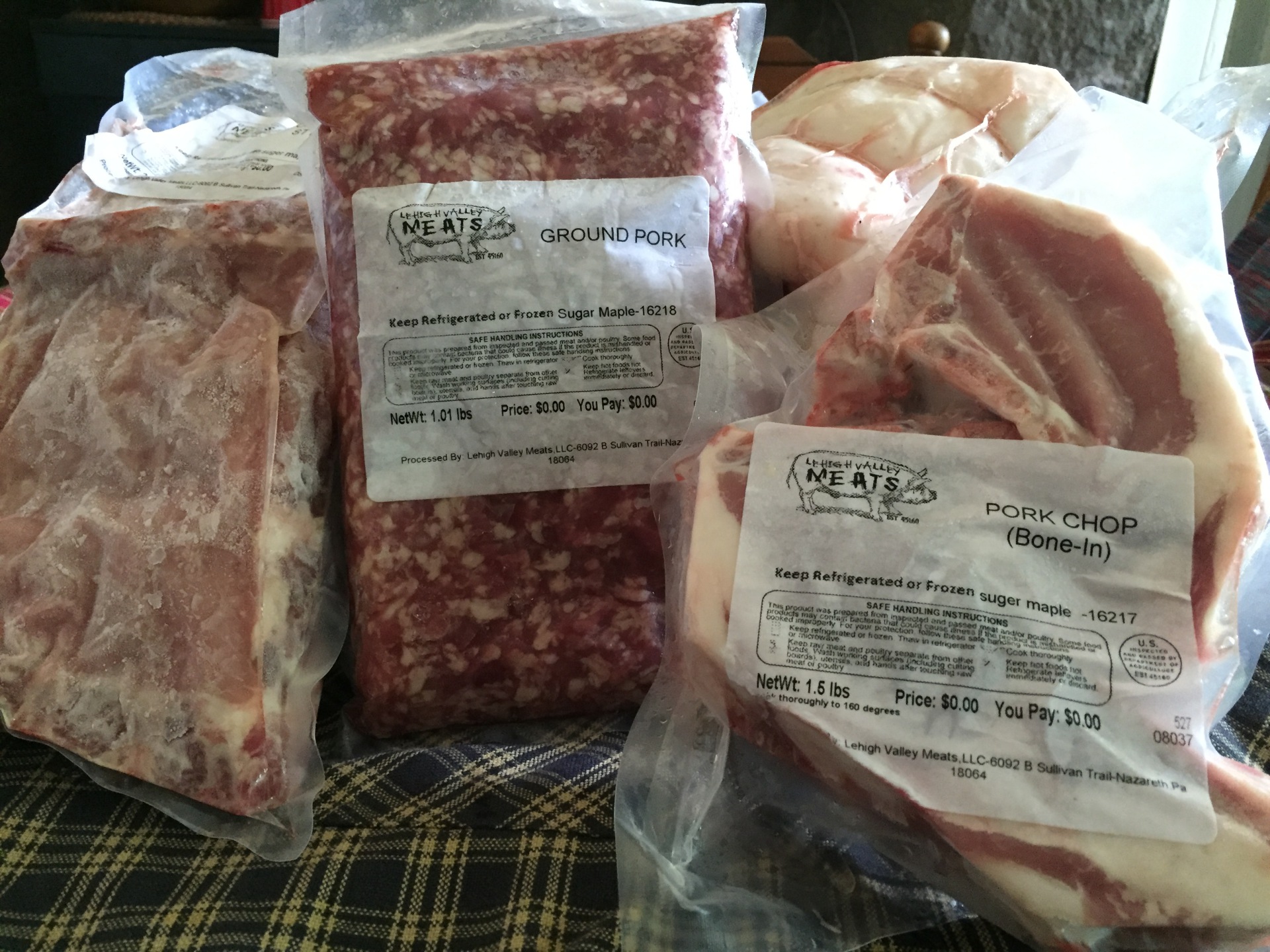 Our pasture raised meats started with the thought we could raise all natural meats here on the farm and be able to feed our family. Once we realized that we would have enough products to feed others, we decided to have our meats processed in a USDA Inspected Facility, and offer them for sale from our farm and select farmers markets . Our goal is to provide consumers with high quality dairy products and pasture raised meats at a price they can afford while having excellent animal care.
     Another important aspect to all that we do is that we really want to feed people. Not everyone can afford the prices for certified organic or certified grass fed products, but we feel that everyone deserves the opportunity to buy wholesome foods for their families, at an affordable price. 
    We'd like to be specific about what "pasture raised" meats means to us on our farm.  Pasture raised simply means the animals are not confined to indoor pens on concrete, but are raised outdoors on grass with shelter; fresh food and water.  Our animals are fed a small ration of grain which makes up less than 10% of their diet.

    Our rose' veal is raisied on pasture and fed whole milk from our milking herd.  Their diet also consists of grass hay and grain, which turns their meat a light pink color.

    Our meat is always antibiotic and hormone free.

Rose' Veal:

    Ground Veal                                 $ 7.00/lb

    Veal Loin Chops 2 per pckg       $14.00/lb

    Veal Rib Chops 2 per pckg         $14.00/lb

    Veal Cutlets 3 per pckg               $14.00/lb

    Veal Cut Shanks  4 per pckg       $16.00/lb

Pork:  

    Ground Pork                                 $ 5.00/lb

    Pork Chops   2 per pckg              $ 7.00/lb

    Bacon                                             $ 9.00/lb

    Sweet Italian Sausage                 $ 7.00/lb

    Breakfast Sausage                       $ 7.00/lb

    Country Style Ribs                       $ 6.50/lb

    Bone In Loin End Roast              $ 6.00/lb

    Boneless Shoulder Butt Roast  $ 6.00/lb

    Smoked Ham                               $ 6.00/lb​

Chicken: 

    Whole Chicken                            $ 5.00/lb

We will deliver orders of $40.00 or more locally.  For smaller orders we will arrange an on-farm pickup time in one of our coolers for you.

Beef:
    Ground                                     $ 5.00/lb
    Patties                                       $ 6.00/lb

    Filet                                            $22.00/lb

    Ribeye                                       $18.00/lb

    New York Strip                         $15.00/lb

    Porterhouse                             $15.00/lb

    T-Bone                                       $15.00/lb

    Rib Steak                                   $15.00/lb

    Flank                                          $12.00/lb

    Skirt                                            $12.00/lb

    Tri-Tip                                         $12.00/lb

    Flat Iron                                     $12.00/lb

    Sirloin (boneless)                      $12.00/lb

                (bone-in)                         $ 9.00/lb

    Brisket                                        $10.00/lb

    London Broil                              $ 8.00/lb

    Top Round                                  $ 8.00/lb

​    Chuck                                           $ 8.00/lb

    Kebab Meat                                $ 7.00/lb